Serious about getting fit? Going to the gym is the first step to being fit and healthy but are you going to the right place?
There are a lot of fitness gyms out there and all are not created equal. At the Conan Fitness Centre (as we like to call it) we like to live by our motto "For The Warrior Within". This motto symbolises our belief that within you is a massive amount of untapped potential that is ready to be tapped on a daily basis with the right mindset, the right approach and the right consistency. Its through our holistic approach that we are able to achieve real world results.
Unfortunately, when it comes to training and lifestyles there is not a one size fits all approach which other gyms and systems try and promote. At Conan we have developed specific training systems that get the most effective results based around your lifestyle and we customise everything to you.
When it comes to our fitness training systems we like to focus on these core areas – Strength, Fitness, Performance, Motivation, Results
---
If you are interested in finding out more about how we can help you improve your health & fitness then please give us a call on 1800 791 484 or send us an Online Enquiry.
---

Everybody Is Welcome
For a number of years Conan has been a private and exclusive personal training studio servicing only personal training and group training clients but now the Conan Fitness gym is open for casual use; we are offering memberships to not only our existing personal training and group training clients but to new members, friends, family and colleagues!
Your membership will include a consultation with one of our qualified trainers, an appraisal, a program and on-going coaching when you are here to do your workout. Even program updates are included in your membership. You will have access to one of our trainers every time you come in to help with any questions you may have throughout your workout, to help with your technique and to spot you if necessary. Terms and Conditions apply (See below).
Gym Open Hours
| | | | | | | | |
| --- | --- | --- | --- | --- | --- | --- | --- |
| | MON | TUE | WED | THU | FRI | SAT | SUN |
| AM | 5:30-11:30 | 5:30-11:30 | 5:30-11:30 | 5:30-11:30 | 5:30-11:30 | 7:00-11:30 | Closed |
| PM | 3:00-8:00 | 3:00-8:00 | 3:00-8:00 | 3:00-8:00 | 3:00-7:00 | Closed | Closed |
Note: Opening times may vary during holiday periods. Open other times for Personal Training by appointment.
Location
Conan Fitness gym is located at 1/11 Foundry St Maylands, Perth WA. It has a fully equipped weight training area and a dedicated group training area for boxing cardio hiit, bodyworks, steelworks & circuit sessions.
Gym Memberships:
Platinum Membership – $132 / month. Platinum membership entitles you to attend an unlimited number of group training sessions and unlimited casual gym use.
Gym Membership – $15 per week. Your gym membership includes a consultation with one of our qualified trainers, an appraisal, a program and on-going coaching.
1 Month Unlimited – $65. Pay for a 1 month casual use pass and attend an unlimited number of times for that month.
Casual Visit – $6 per visit. Pay as you go
Casual Membership Terms and Conditions
The Conan Fitness Casual Membership billing starts the day after you join.
If you would like to change the billing date – No problems, it offers you that great flexibility. Please contact Conan Fitness and we will arrange this for you.
Conan Fitness Casual Membership is for a minimum of two months from start date. Following the two month minimum period you can cancel anytime.
We require two weeks' notice for cancellations.
We require two weeks' notice on all suspensions and each suspension must be for a full billing period i.e. one month. All suspensions incur a $20 processing fee.
Members are advised that billing occurs in advance and refunds cannot be given if cancellation occurs mid billing cycle.
Conan Fitness Casual Membership is great value; with our monthly rate based on a 45 week year to account for holidays and annual closure periods.
The membership rates account for holiday and annual closure periods so be aware of alternate opening times during these periods.
Opening times may vary without notice.
Casual membership does not include Group Training or Personal Training sessions
Credit card and billing statements will state "Ezidebit Australia (Newstead AU)" on the billing transaction description.
By signing up to the Casual Membership you agree to these terms and conditions and to abide by the Conan Fitness usage policy below.
Casual Membership Usage Policy
All members agree to abide by the policy.
Members will keep the gym tidy and clean at all times. This means returning Dumbbells, Barbells and any other equipment used to its correct location.
All members will provide and use their own sweat towels and wipe down equipment after use.
Antisocial and discriminative behaviour will not be tolerated. No swearing around children!
Conan Trainers reserve the right to review programs and not allow any dangerous or counterproductive exercises to be performed.
Equipment may not be available during classes or peak times, and personal training sessions must have right of way.
---
Our Gym
Often with the big commercial health clubs you can feel like you are just another number. Not at Conan…you are number 1 in our eyes.
No More Crowded Gyms
Private & Exclusive
Quiet
Personalised One on One Service
Fun & Motivating Place To Train

The Conan Fitness Difference – How Are We Different To Other Health Clubs
It can be daunting to find a gym near you in Perth when there are many health clubs like Fitness First, Goodlife, Anytime Fitness and other 24 hour fitness locations to choose from. But why should you join Conan Fitness instead? Here are our top reasons why you should trust us with your health & fitness.
Versatile fitness services
At Conan Fitness, we truly understand that fitness levels vary from one person to another. A wide range of fitness services are offered to provide the most suitable training program based on your weight, height and fitness experience. Whether you are an beginner or a pro, you can find the best tailored program with us.
Results-orientated                              
No other gym is concerned with your progress. Our team of professional and experienced personal trainers will guarantee professional fitness assistance from start to finish. We also provide continuous nutrition and training education so you can stay fit and healthy even when you are not working out. At Conan Fitness, we guarantee success. If you don't see results within two months, we will be more than happy to give you a refund.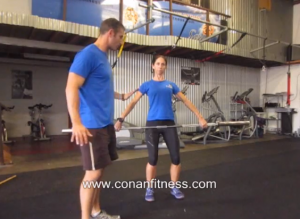 Trusted and passionate
Conan Fitness started providing quality fitness services in 2004. Our team of professional trainers are passionate to provide personalised services based on your fitness and health levels. We are concerned with the overall aspect of your well-being. From increased strength to lifestyle management, we use the most effective holistic approach in achieving your health goals.
Fun and motivating
Enrolling in a big gym is intimidating. You may even feel that you are just another member. At Conan Fitness, we guarantee that you are not just another number. You will get the best fitness supervision so you can achieve your desired results. To get the most out of your training, we have the best services to assist you.
If you are not a fan of expensive and crowded gyms, Conan Fitness offers a quiet, private and exclusive place to train.
---
Come in a see one of their friendly trainers for a FREE full Comprehensive Lifestyle Assessment and see if you are a suitable candidate for our training-systems and techniques. Call 1800 791 484 or Send An Online Enquiry
---
Here Are Some Additional Tips On How To Choose The Best Fitness Gyms For You.
For most people looking to embark on a new exercise regime, finding the right centre will also depend upon the following factors:
Gyms Near Me
To integrate exercising in your lifestyle, you need to establish consistency. Consistency is important when undertaking any type of fitness training program whether it be fat loss, weight loss, fitness, muscle development. One of the factors that can havoc your exercise goals is the location of the gym. If your gym is too far away from home or work, you are most likely to get lazy to attain your fitness goals. As much as possible, choose a facility that is accessible from your home or work within 20-30 minutes so their is no excuse.
Whether you exercise after work or on weekends, also make sure to crosscheck gym's operating hours with your availability. You don't want to pay for something that you can't use.
Membership And Fees
Aside from the location and operating hours, you also need to consider the cost of joining a gym. Make sure to check the facility and the contract so you know exactly what you are paying for. Be on a lookout for extra options that you don't actually need. These add-ons usually spikes the final contract price.
Also be aware of long term agreements. This type of contract will bind you for up to a year. Even if you are not going to their facility, you are entitled to pay the monthly dues.
Gym Equipment And Atmosphere
You need the proper equipment for your workout routines. A lot of people these days rely too much on machines for their workouts because its easier. The truth is old fashioned free weights and functional equipment is a lot more effective when it comes to training. Another point to consider is how busy a gym is. A lot of the commercial gyms are far too busy during peak times that its often quite difficult to get an effective workout due to the fact you are having to stop and wait for equipment you need. The key to training is intensity and if you are continually stopping because you can't get onto the equipment you want then results will suffer.
Aside from the equipment, a gym should have the encouraging and comfortable vibe. If you feel intimated, keep searching until you find an gym you feel comfortable to join. These days we are seeing more and more boutique gyms and pt studios being established as people are getting more personalised service as opposed to the larger facilities where you may feel more like a number.
When it comes to choosing a fitness facility in Perth, don't be afraid to ask questions and do some research. Take in consideration the mentioned list of criteria so you can have the most out of your investment while improving your body, health and `overall well-being.
If you would like to tour Conan Fitness's PT gym to see how we can help you, give us a call on 1800 791 484 or send us an Online Enquiry