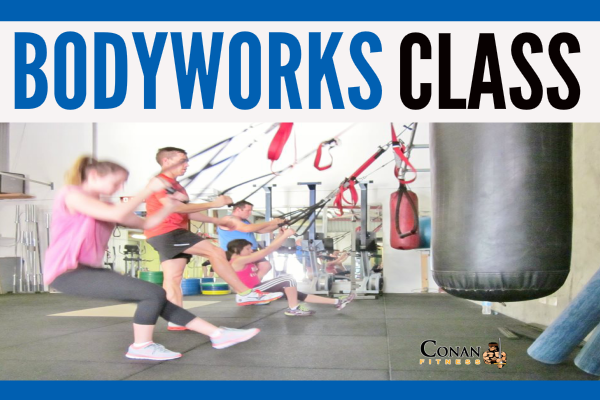 Bodyworks group fitness classes is a unique complete body workout which combines kettlebells and suspension training to build power, strength, flexibility, balance and super-charge your VO2 max (aka your cardiovascular fitness levels).
Benefits of Bodyworks?
Our unique Bodyworks system involves EVERY muscle of your body so you can expect to see and feel a number of benefits.
Lean & Toned Body

Reduced Body Fat Levels

Strong Core Muscles

Improve Coordination

Improve Physical Health

Increased Confidence

Increased Flexibility & Agility

Increased Power

Speed & Endurance

Overall Body Strength
21 Days of Fitness For $21 Introductory Offer
If you are New to Conan and would like to come down and experience our classes, then why not take advantage of our introductory 21 days of fitness for $21 offer. The 21 days of fitness membership allows you to attend an unlimited number of group training classes during that time to allow you to experience everything we have to offer. They say it takes 21 days to build a habit so we want to help you start off on the best foot and build healthy habits into your lifestyle. After your 21 days, you can easily convert over to one of our ongoing group fitness memberships.
Trial - 21 Days Of Fitness
Unlimited Group Fitness Classes