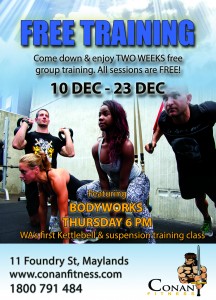 Conan Fitness, will be opening the doors to the public for free, for two weeks leading up to Christmas.
All group training classes including boxing, cardio HIIT, boot camp, running training and the new Bodyworks class will be free for everyone to try from Monday, 10 December until Sunday, 23 December.
Conan Fitness is offering you the opportunity to come down and try out all group training classes for free and get a taste of the style of training that Conan fitness has to offer.
"We invite you to bring your friends and family along and give it a go.
"Our new Bodyworks class incorporates kettlebells and suspension training for a complete body workout.
"Cardio HIIT is a 30 minute interval class that is guaranteed to increase your fitness and burn fat,"
There is no need to book just come along to any or all or the classes.
For class times and locations visit the Conan Fitness Group Training timetable

For more information please email info@conanfitness.com or call 1800 791 484