Triathlon is one of the fastest growing sports in Western Australia and completing your first race is undeniably one of the most rewarding achievements for the amateur sportsman or woman.  Have you registered for a race this year? Are you considering entering your first race?  Let's take a look at some race day tips that can help to take the anxiety out of your debut race.
If you have a particular race that you want to try as your first race, my advice is to do another short race before 'D day' and have absolutely no expectations of your practice race.  Make mistakes, get a feel for the race day vibe, listen to the race day rules and put them into practice on the course.
When it finally comes to 'The Race Day,' you will be able to focus on each leg with more clarity if know what to expect.
The day before race day is the day to get all your gear sorted, your equipment prepared and packed ready for the morning.  Check your bike is running smoothly and your tyres are pumped up and pack your bike and pump in the car.
It helps to have a checklist of all the items you will need so that you can pack your bag calmly and sleep well knowing you have everything ready to go in the morning.  The main items to remember for your first race are:
•    Race pack (if you have collected it before race day) this includes your cap and timing chip.
•    Watch
•    Race belt (worth the $10 investment)
•    Small brightly coloured transition towel (the brighter, the better as you can use this as a marker of where your bike is racked)
•    Sunglasses
•    Towel
•    Toilet paper (don't get caught out)
•    Plastic bags for wet clothes
•    Change of clothes
•    Money
•    Sun cream
•    Thongs
•    Post race food
SWIM
•    Goggles
•    Cap
•    Wetsuit (if required, not essential)
•    Plastic bags (to easily put on your wetsuit)
•    Body Glide (to avoid chaffing)
BIKE
•    Bike
•    Helmet
•    Bike shoes (if using clip in shoes)
•    Pump
•    Water bottles
•    Repair kit with Co2 canister, spare tube and tyre lever.
RUN
•    Run shoes (with elastic laces)
•    Hat
•    Energy chew or gel
On arrival, collect your race pack if you haven't already done so the day before and have your race number marked on your arm and leg by the body marking volunteer's.  Attach your timing chip to your left ankle and your race number to your race belt or use the safety pins provided to attach to your ride/run top.
Head to the transition area with your helmet done up and rack your bike on your numbered spot on the rack.  Place your small coloured towel on the ground close to your bike.  Put your run shoes at the back of the towel, your helmet in front with the straps open and ready to go on, place your open sunglasses inside your helmet and your race belt in front of your helmet, done up, ready to step into and pull up around your waist.  Many people put their helmet on the aero bars of the bike but it can easily get knocked off by another competitor or be blown off it's windy.  If you are using clip in bike shoes, have these next to your helmet, with the straps open ready to go.  There is no need to wear socks on either the ride or the run but it helps to have some Vasaline or Body Glide on the heels or your shoes and any other points that might rub and a small amount of talcum powder inside.  Ensure your bike is in a low gear so you can easily get going at the mount line.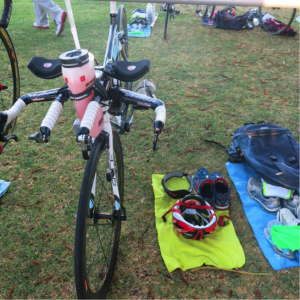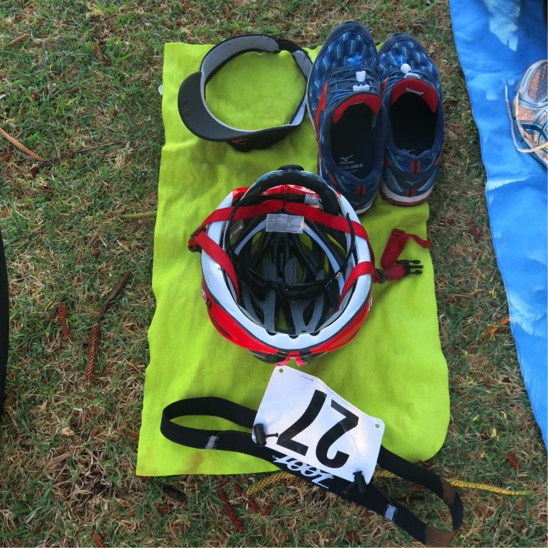 Once you have set up the transition area, take a moment to look around you and take note of where your bike is racked.  Try to find a landmark such as a tree or a light post that you can sight as you run up to transition from the swim.  Remember the row number you are on and note the entry and exit points.
Find the bag compound area, drop your bag off and get warmed up.  A warm up is important.  You need to get your energy systems firing, unless you want to be playing catch up during your race.  Ideally you will go for a jog and then head to the water and warm up for the swim.  Always get in the water and get a feel for the water temperature and the current. While you're on the beach, you will usually listen to your race briefing and have your start time confirmed.
The swim start is usually the most intimidating part of the race.  At your first race, do yourself a favour and start at the back of the pack or on the very edge, unless you are a very confident and quick open water swimmer.  The more space you have and the less white water you encounter, the quicker you will lower your heart rate and find your rhythm.  Stay on course by sighting every 10 – 15 strokes and breath on the side with the least amount of people/waves/wash.  On exiting the water, remove your cap and goggles and give yourself a mental pat on the back for completing the first leg!
In transition one (T1), remember to put your helmet on first, then make sure you have your race belt and your bike shoes on.  Don't worry about any tricky bike mounts, just find a space out the way of other riders at the mount line and get on your bike safely.  Once you are away, now is the time to hydrate!  Take in water and do so on each lap of the cycle.
It's important to remember to keep left when riding.  Travelling in the centre or right side of the lane is classed as 'blocking,' a technical official will issue a penalty if you are seen to be blocking.
You must all keep 7m away from the rider in front of you.  If you are overtaken, you must drop back or overtake in 15 seconds.  If you fail to keep a safe distance and ride in another rider's slipstream you may be penalised for drafting.
As you approach the finish of the last lap, put your bike in a low gear and spin in a faster cadence to flush the legs and help in the transition from bike to run.
When dismounting from your bike, don't attempt anything you haven't practiced!  If you are not confident in your ability to unstrap your shoes while riding, don't try on race day!  Dismount safely and run your bike back to your position on the rack and rack your bike before you remove your helmet.
Change your shoes, put on your hat and head out for your run, giving yourself another pat on the back for completing leg #2!
Expect the first few minutes of the run to feel hard.  The legs will feel heavy but the feeling will dissipate and soon you will be crossing the finish line.  Now is the time to soak up the race vibe.  With the finish in sight, make sure your race number is facing the front and give a big smile as you cross the line.  You've conquered a three-discipline race and you are officially a triathlete!