2 cups rolled oats
3 -4 scoops of chocolate protein powder
1 teaspoon Baking powder
1 teaspoon of cinnamon
1 egg
1/3 cup of egg whites
1 orange, juiced + zest or half a cup of orange juice
¼ – 1/3 cup maple syrup
Splash of milk
3 tablespoons unsweetened apple sauce
1 -2 bananas thinly sliced
2 -3 dates, pitted and chopped finely (fresh is best)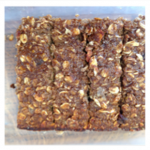 Cooking Instructions
Combine oats and protein powder in bowl.  Juice orange and add to the dry ingredients and grate zest in as well. Combine wet ingredients in another bowl, add baking powder to a small amount of water, add to wet ingredients and whisk.  Combine wet and dry mixtures, add bananas and dates. Mix well. Mixture should resemble a cookie batter. If mixture is too thick add a little milk.  Pour into a baking paper lined tray.
Cook at 200 (180 fan forced) for 25-30 minutes or until golden brown.
Place on cutting board and cut into 16-20 bars.
Devour!