Hiring a personal trainer at Conan Fitness is an easy choice because we specialize in real-world results. Over years and we have formulated specific systems and structures of protocol that get the most effective results based around the flexibility of various lifestyles. As we know there are huge ranges in lifestyle and it's not a "one size fits all", it's just not. That is why our personal training programs are so effective and why we guarantee results.
Personal training is the most effective means of ensuring the greatest possibility of success. Whether your aim is to decrease body fat, improve self confidence and quality of life, become conditioned for a specific event or to take your entire fitness levels and physical capabilities to a whole new level you never thought possible, nothing will beat having a personal trainer and mentor sitting in your corner every step of the way.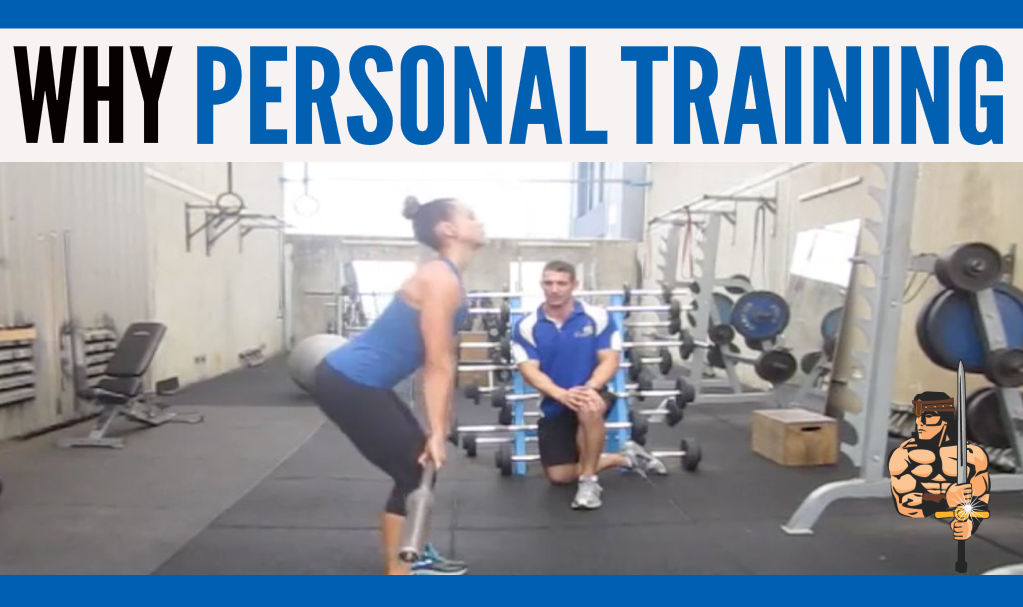 The greatest benefit of one on one training is the intimate attention that is paid to all facets of your journey, including your program, diet, motivation, emotional fitness and overall lifestyle habits.
This approach is more effective at optimising each area of concern by making your training safer, more enjoyable, more streamlined, adapted perfectly for your specific level and because of the one-on-one nature we can pin-point any personal obstacles before they can dampen your progress. We believe every person should have a personal coach for every major area of their life.
Here are 3 reasons why our programs are so effective:
Customised Training Programs
Your personal fitness trainer will sit down with you and discuss all aspects of your lifestyle and formulate a plan & program that is sustainable. You will establish a realistic and effective fitness goal which you and your trainer can track. As you progress your trainer will modify and tweek things to ensure continual progression is made.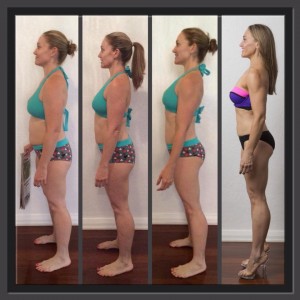 Keeps You Motivated
If you are easily discouraged from reaching your fitness goal, our programs & trainers will keep you motivated until you reach your success. Whilst a large portion of success is determined by yourself, its important you find a personal trainer that will help teach you techniques and strategies to keep you on track. Your trainer will continually monitor your progress and give you the direction and advice needed to ensure your goals are reached.
Safe Effective Workouts
A lot goes into putting together and effective training plan, especially one that lasts 12 – 24 weeks. Generally depending upon your level and experience we would break your program into phases. Most people starting out will start within an easy/adjustment phase. Typically during this phase, it's about getting your body used to weight training and there is a major focus on technique. This is to minimise the risk of injury and developing bad habits. Once a client has transitioned through the start-up phase our trainers will start to ramp up your training with higher intensity workouts. Depending upon your skill level, technique and competence you will start to play around with increased weight or reps to add more load into your workouts. After an extended period of time and with a volume of training behind you, your trainer will transition your workouts into the final phase where they will challenge you with various high-intensity workouts. As mentioned above all our programs are customised to you and will be tailored as you progress to ensure you get optimal results for you.
We apply a holistic and comprehensive lifestyle approach to all our personal training programs and we guarantee the best solution for your success. Contact us now 1800 791 484 to book a health assessment to discuss your needs or Send An Online Enquiry
---
7 Reasons Why People Choose Conan:
At Conan we strive for peak performance in everything we do and that is why we have a strong track record when it comes to our clients. If you have been looking for a personal trainer, below are the seven reasons why people choose to do personal training with us in Perth.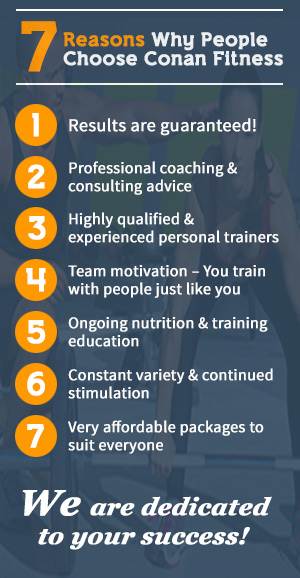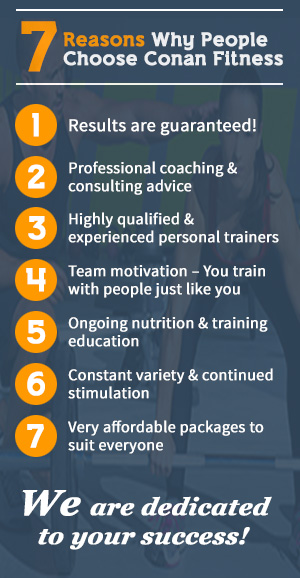 1. We offer a Results Guarantee. If you don't see vast improvements in your fitness, energy & body shape within the first 2 months with our training & programs, we'll happily refund your money and we'll even pay for you to go and train with someone else.
2. You will have access to professional coaching and consulting advice throughout your whole journey to keep you on track and to help get you through the tough patches you may experience. We will also be on hand to help celebrate your wins along the way as well.
3. All of our personal trainers are highly qualified and experienced within their area of expertise. Have a specific goal you are wanting to achieve. We will place you with the trainer who is best suited to help you and to ensure your results are maximised.
4. We have a motivated team that are here for you every step of the way to keep you on track. You will also get to train with like minded individuals and together you can all help each other push towards your goals. Its just a really friendly and motivating environment.
5. We offer ongoing education to do with your training and nutrition. We understand that equipping you with the knowledge will help you apply positive lifestyle changes that will serve you for the rest of your life.
6. At Conan we understand that there is not a one size fits all approach to fitness and that is why everything is customised to you. With our holistic approach we offer you great variety and stimulation with your training to ensure that it is fun and enjoyable but most importantly to ensure you get results.
7. We offer a variety of affordable training packages to suit any goal. We have personal training, group training and gym packages available for you. Simply choose to pay as you go or save big time and sign up for one of our affordable monthly memberships.
So if you're someone who's really committed to making that change, to significantly improving your life, your body, your physiology and fitness overall, without that fad mentality of chasing one quick-fix notion after another, don't wait, stop putting it off, do something now. Listen to that voice in your head that says: "Go for it, do it, make the jump." Give us a call, send us an email, do something towards the attainment of that goal that you've got in mind. Do it for yourself, and do it for the warrior within you. 
---
Our PT Packages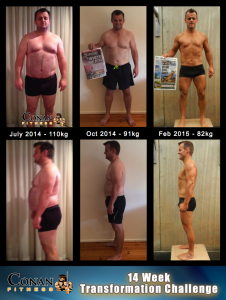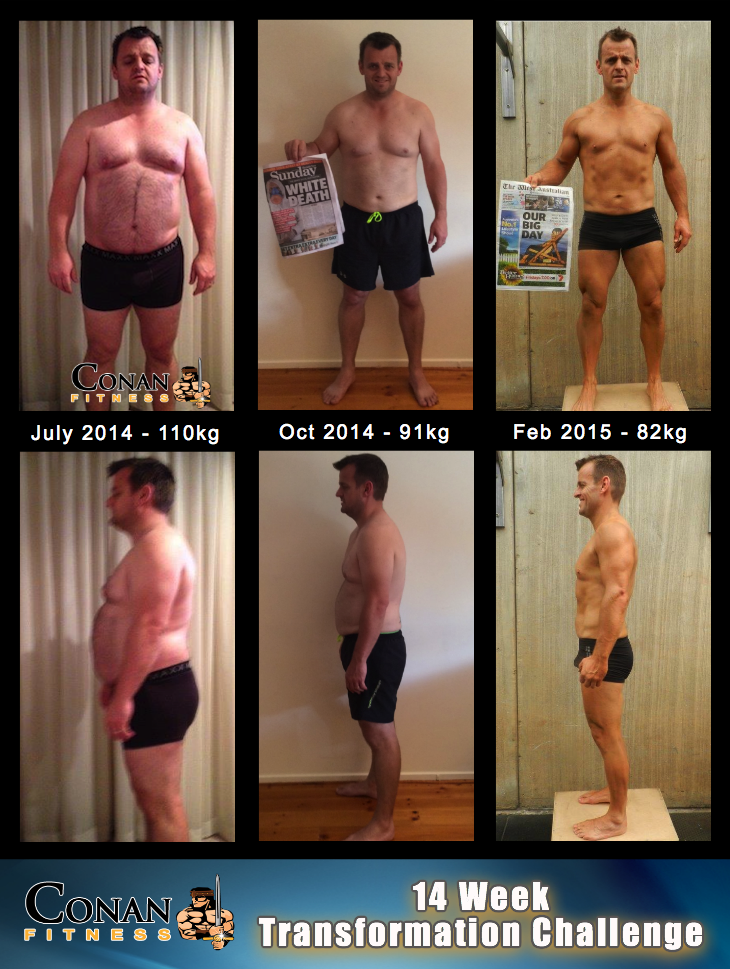 Each PT package is tailored to your individual needs. One of our friendly fitness professionals will sit down with you and take you through a full comprehensive lifestyle assessment. From here we will best be able to tailor a plan that will get you results. It's our holistic approach to all aspects that ensures you improve your health, succeed in life and improve your overall well-being. You can be rest assured we have a solution for you no matter what your needs.
We offer:
One on One PT Sessions
Dual PT Sessions
How Much Is A Personal Trainer
Prices are available upon request for all PT packages are tailored to your individual needs. All packages include training diary, customised plan, personalised diet plan, ongoing appraisals & dedicated coaching and support throughout the week. Book Your Consultation Today!
Optional Extras & Addons To Support Your Personal Training
Conan has a range of additional services to support your personal training, including over 20 group fitness classes that you can get access to help supplement your training and a gym that you can come and use on a casual basis outside of your pt times. Additional membership options include:
Platinum Membership
Become a platinum member and you will also get unlimited access to all group training classes and unlimited casual access to use the Conan Fitness gym during opening hours. All for just $132 per month. Sign Up Today!
GT Membership
Become a GT member and get unlimited access to all group training classes. Join Today!
---
Our Personal Training Studio
The Conan Fitness PT Studio is located unit 1/11 Foundry Street, Maylands Perth.
We are not like other gyms or health clubs in that our focus is on holistic and functional fitness. Our private personal training studio is setup as more of a warehouse gym.
Conan has a fully equipped weight training area and a dedicated functional group training area for all of our unique group fitness classes – Boxing For Fitness, Cardio HIIT, Bodyworks, Steelworks, Bootcamp, Circuit Classes, Bike Box & Burn, Build & Rip and Stretch & Flex sessions.
Here are some images of our studio gym:


Our Guarantee
Contact Conan today to if you would like more information about our personal training packages and to see how we can help you with your goals. Make an appointment and come in a see one of their friendly fitness professional for a FREE full Comprehensive Lifestyle Assessment.
We are dedicated to your success!