Our Group Training (GT) classes are the ideal way to increase your strength, speed, endurance and overall fitness. Working out in a team environment is not only motivating, it's stimulating and fun! At Conan we believe that variety and intensity is the key to taking your overall performance to the next level. That's why we aim to provide a wide range of classes to suit different lifestyles and varying levels of fitness. At Conan we offer a more personalised approach to our group sessions with one-on-one advice, goal setting, access to peak performance coaching and tailored session planning from our expert trainers. We recommend three to four GT sessions a week to complement your strength training and get you on the road to reaching your true performance potential.
---
 Check Out Our Group Training Classes Below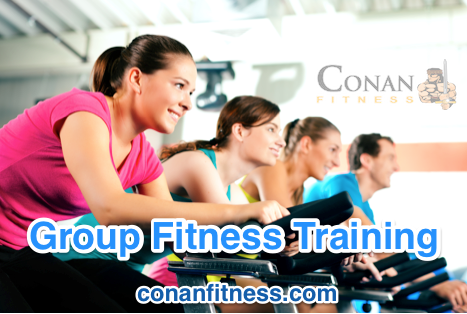 ---
Benefits of Our Group Training
Many people today are joining our group training programs because it brings more to the table with its exciting routines, variety and friendly atmosphere. Here are more reasons to get in shape with our group fitness classes.
Accountability and Group Motivation
If you need encouragement, group motivation can keep you focused and even push yourself to the limit. A strong support group can also prevent you from skipping a class or two, hence keeping you accountable.
Learn Something New & Add Variety To Your Workouts
Tired of the same routine over and over again? Then, group training is for you! Mix up your sessions as we have something different every day. This will give you the variety you need to keep you engaged.
Camaraderie That Is Fun and Exciting
Working out alone can be boring if you are a social type of person. Group training can spice up your workout routines. You will make friends and share fitness experiences together. Remember fitness is meant to be enjoyable so make the most of it and share in the camaraderie together.
Better Fitness Results
With accountability and regular attendance, you are able to get more from your training, especially when combined with some personal training or strength training. We recommend three to four GT sessions a week to get you on the road to reaching your fitness goals.
More Affordable & Great Value For Money
Our group training packages make it extremely affordable for you to train with us. Casual classes are $20 or sign up for our GT Membership which grants you unlimited sessions which works out to be less than $8 per session if you attended all classes.  We also have a 20 session pack which works out at $15 per class. There are no lock in contracts or hidden fees just simple and easy.
---
Duration
Each class goes for a duration of 45 minutes
---
Pricing
Casual – $20
GT Pack (20 Sessions) – $300
GT Membership (Unlimited GT Sessions) – $99 / Mth
Platinum Membership (Unlimited Group Training & Gym Use) – $132 / Mth
---
Contact Us
For Group Fitness Training in Perth you can trust, call Conan Fitness on 1800 791 484 to book in or Send Us An Online Enquiry. Take your fitness and health to the next level, Call Us Today !